Why St. John?
Come Grow with our Family!
Grow in the grace and knowledge of our Lord and Savior Jesus Christ. To him be the glory both now and forever! Amen. (2 Peter 3:18)
Our Teachers
All of our St. John teachers are properly licensed through the State of Wisconsin and Synodically trained through the Lutheran Church Missouri Synod.
Grow in Mind – Academics
Seven out of 10 St. John graduates consistently achieve honor roll status and outperform the class average GPA in high school. Achievement tests demonstrate that St. John students repeatedly score above average grade level based on national standards. Some of the opportunities include:
Excellence in core subject areas
Advanced math placement
Educational field trips in every grade
Attention to individual learning needs
Yearly science/social studies fair projects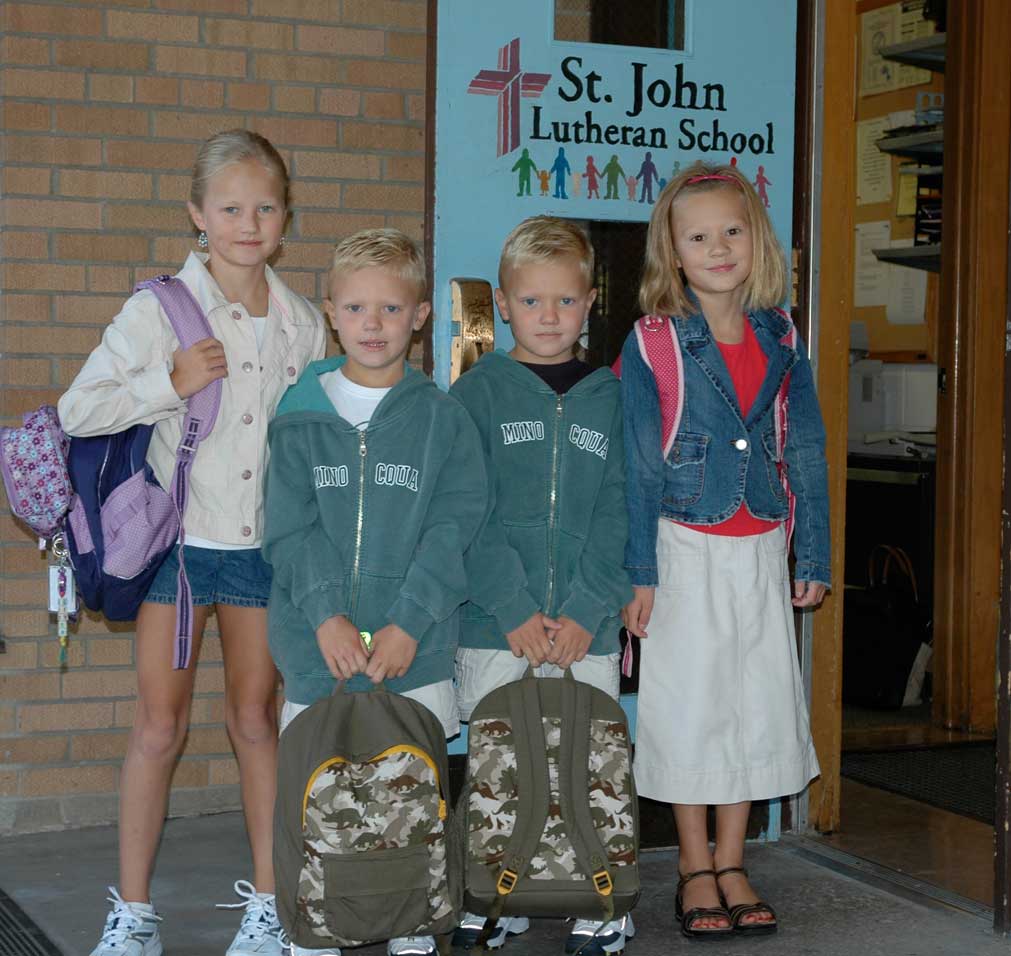 Grow in Body – Extra-Curriculars
St. John offers many opportunities for extra-curricular learning and skills development.
Volleyball
Soccer
Basketball
Track
Softball
Football*
Cheerleading
Drama
Hand Bell Choir
Band*
Choir
Yearbook
*In conjunction with the public school system.
Grow in Faith – Christian Education
Educating your child at St. John helps reinforce your Christian values taught at home.
Daily religion classes
Weekly chapel
Bible verse memory
Faith-integrated curriculum
Daily devotions and prayer
Service and mission projects
Grow in Love – Family Atmosphere
St. John offers many family fellowship and volunteer opportunities to be involved with your child's education. St. John's Parent Teacher League sponsors many fun events, such as a yearly Timber Rattler's outing, a campfire kick-off to start the school year, classroom decorating for Christmas, and much more. Other activities that foster our family-like atmosphere include:
Small class sizes
Reading buddies across grades
Peer tutoring and mentorship
Multi-grade activities
Family activities and events
Grow in Our School – School Facility
St. John has ample facilities to provide a full education for your child. A gymnasium and large outdoor grounds provide opportunities for many athletic and physical education activities. St. John offers the following amenities:
Cafeteria and hot lunch program
Computer lab
Computer-equipped classrooms
Library
Playground and athletic field
Gymnasium