School Supply List
4K
Crayola Washable Broad Tip Markers –10pk   Basic Colors (Red, Yellow, Blue, Green, etc.) (add  child's initials)
Crayola Washable Crayons (24 or less)
3 Large Glue Sticks
Large Glue Bottle
Scissors (add child's initials)
Dixie 5 oz. cups 100+
1 Bottles of Foaming Soap
3 Containers of Clorex/Lysol Wipes
Dry Erase Markers – Colored Bold Tip
Gym Shoes (preferably Velcro or elastic laces)
Backpack (large)
Complete change of clothes in large Ziploc bag – to be kept in backpack.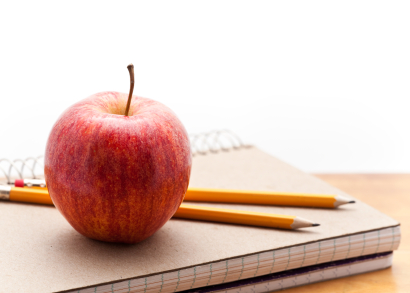 KINDERGARTEN
(no extra things & label with student's name, please)
Pencils (8-10 yellow #2 -sharpened)
Scissors (plastic handle, metal blunt tip)
Gym Shoes (white soled)
Watercolors (Crayola)
Glue (large, Elmer's white squeeze glue only)
Painting Smock
2-24 pk Crayola Crayons
Zipper Pouch (for crayons)
2 large or 4 small glue sticks
School Bag (backpack)-regular size
Crayola Washable Broad Tip Markers – 10pk Basic Colors (Red, Yellow, Blue, Green, etc. no black barrels)
Colored Pencils (no twistables)
Eraser (large, pink, rubber)
Headphones (no ear buds)
Expo (dry erase markers) Black
1 Lysol Wipes-Large
1 Large Box of Kleenex
1 Pocket Folder – Plastic
1 Box Sandwich Size Ziplock Bags
FIRST & SECOND GRADE
2 Pocket Folders (no trapper keepers)
(8-10) yellow #2 sharpened pencils (to give to Mrs. Fritsch) – NO pens or Mechanical Pencils
2 Expo Markers Black -wide tip- give to teacher
1 Pencil/Crayon Box
1 – 12 in. Clear Ruler – we must see through it
2 –24 ct. Box Crayola Crayons (NO 64's) students will need more than one red crayon, an extra box at home would be a good idea!
1 Box Colors of the World (This has awesome skin tones especially for religious art)
1 Fiskars Scissors (please no plastic ones)
1 Large Bottle Elmer's White School Glue (needed) (2 would be great, keep 1 at home)
1 Pink Eraser (needed)
2 Spiral Notebooks (70 pages)
1 Rolls of Bounty Paper Towel
1 Watercolor Paints (basic colors) (2nd grade can bring the one from last year)
1 Box Markers (basic colors)
1 Paint Smock/Shirt (2nd Grade might have theirs at school)
School Bag or Backpack-regular size–NO wheels
1 Pair Gym Shoes (to be kept at school)
Catechism (purchase at school office)-$16.00 – for 2nd grade (1st may purchase if you want)
3 Large Boxes of Kleenex no lotion –no small boxes please
1 Large Lysol or Clorox Sanitary Wipes
Headphones for computer use. Some kept theirs at school.
1 Box Colored Pencils (basic colors)
1 Pencil sharpener – to be given to teacher
1 box of disposable spoons
THIRD & FOURTH GRADE
48 #2 pencils – already sharpened (no mechanical pencils)
Box of Crayons/Colored Pencils
1 Small Plastic Pencil Box (with initials)
5 Large Glue Sticks
2 (2-Pocket) Folders for in class use (any kind, no center binding)
2 One Inch, 3 Ring Binders with clear cover on front to slip a page inside
Headphones for the computer (no earbuds please)
1 Set of Markers
1 Pair of Gym Shoes that will stay at school
Catechism (purchase at school office-$16.00)
1 Set of Watercolors
1 Transparent 12-inch Ruler with Metric (with initials)
1 Pair of School Scissors (with child's initials)
2 Pkg of Black Fine Tip Low Odor Expo Dry Erase Markers
5 Big Erasers to Share
2 Boxes Kleenex or more
2 Containers of Clorex/Lysol Wipes or more
2 Separate Spiral Notebooks – 70 pages each
1 Composition Notebook
Bible – 3rd grade will get a free Bible (4th grade has one)
3rd and new 4th graders should purchase recorder equipment $22.00 – have a 3-ring binder for music
1 Bottle of Foaming Hand Soap
1 Art Smock or Old T-Shirt
1 Box Quart Ziplock bags
Backpack, – NO wheels
FIFTH to EIGHTH GRADE
Bible ($12.00)
Catechism ($16.00)
12-inch Ruler with Metric
Protractor
Scissors—adult size
Loose Leaf Paper—wide line
Pencils and Erasers (if mechanical, must provide own lead)
Colored Pencils, Crayons,Watercolors, Markers (8+ colors)
Elmer's Glue or Glue Stick
2 Spiral Notebooks
Recorder for non-bell students ($22.00)
USB Drive—2g or higher
Headphones or Earbuds—to be kept at school
Clorox or similar wipes—2 containers
12 oz bottle Hand sanitizer—to be kept at student's desk
Paper Towel—2 rolls
Kleenex—2 large boxes
2 Expo Markers – thin
Required for Gym Class:  Gym shorts, T-shirt, white athletic socks, deodorant, gym shoes with non-marking soles, sweatpants and sweatshirt for cool weather, box of baby wipes (shower in a box)